How It Works
When applied topically, CBD passes through the epidermis (outer layer of skin) into the dermis. Once inside, CBD increases the supply of a chemical called Anandamide in the dermis, which is one of the bodies natural (endo)cannabinoids.
Anandamide interatcts with a variety of receptors in the skin that co-ordinate everything from the turnover and rejuvination of new skin cells, to controlling levels of inflammation, communicating with sensory neurones for pain signalling, controlling blood vessel dilation and the secretion of oils onto the skin from sebaceous glands.
CBD is also an antibacterial and antifungal agent, helping to maintin a healthy balance of microbes on the skin (to help with infections and skin conditions).
As a powerful antioxidant, CBD may protect keratinocytes (skin cells) against oxidative damage. This may help protect against skin conditions, and promote healthy vibrant skin.
The combined actions of CBD and Anandamide help to support healthy skin, as well as musculoskeletal health (through alleviating inflammation leading to muslce and joint soreness).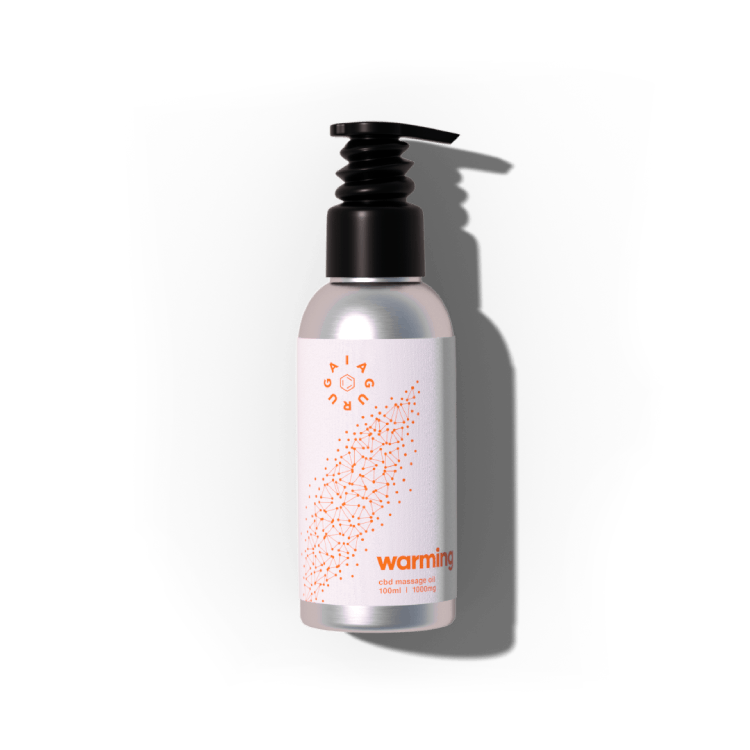 What's It Good For?
A concert of anti-inflammatory, analgesic and vasodilatory ingredients, which support the nourishment and repair of tired and sore muscles

Increased blood flow to muscles for enhanced recovery and repair
Alleviating aches and pains in combination with massage therapy
Enhancing relaxation from massage therapy
product faq
A CBD massage is exactly how it sounds. It can be any type of massage therapy that is enhanced by the use of CBD within the massage oil. Since massage therapy and CBD have many overlapping benefits, combining the two makes for an overall compounding of those benefits (think 1 + 1 = 3).
usually when using CBD massage oil fro pain its best to spot treat an area with a highly concentrated dose. The warming is is highly concentrated, so its ideal for using on specific areas on the body.
When applying it in a massage oil format, usually within about 45 minutes.
Topical CBD may help reduce swelling, joint pain and muscular pain. These may in turn help with mobility and general movement. These have been researched, but the research is in the early stages.
Some regular users of CBD report that it has helped them with arthritis.
what's everyone saying ...