How It Works
When applied topically, CBD passes through the epidermis (outer layer of skin) into the dermis. Once inside, CBD increases the supply of a chemical called Anandamide in the dermis, which is one of the bodies natural (endo)cannabinoids.
Anandamide interatcts with a variety of receptors in the skin that co-ordinate everything from the turnover and rejuvination of new skin cells, to controlling levels of inflammation, communicating with sensory neurones for pain signalling, controlling blood vessel dilation and the secretion of oils onto the skin from sebaceous glands.
CBD is also an antibacterial and antifungal agent, helping to maintin a healthy balance of microbes on the skin (to help with infections and skin conditions).
As a powerful antioxidant, CBD may protect keratinocytes (skin cells) against oxidative damage. This may help protect against skin conditions, and promote healthy vibrant skin.
The combined actions of CBD and Anandamide help to support healthy skin, as well as musculoskeletal health (through alleviating inflammation leading to muslce and joint soreness).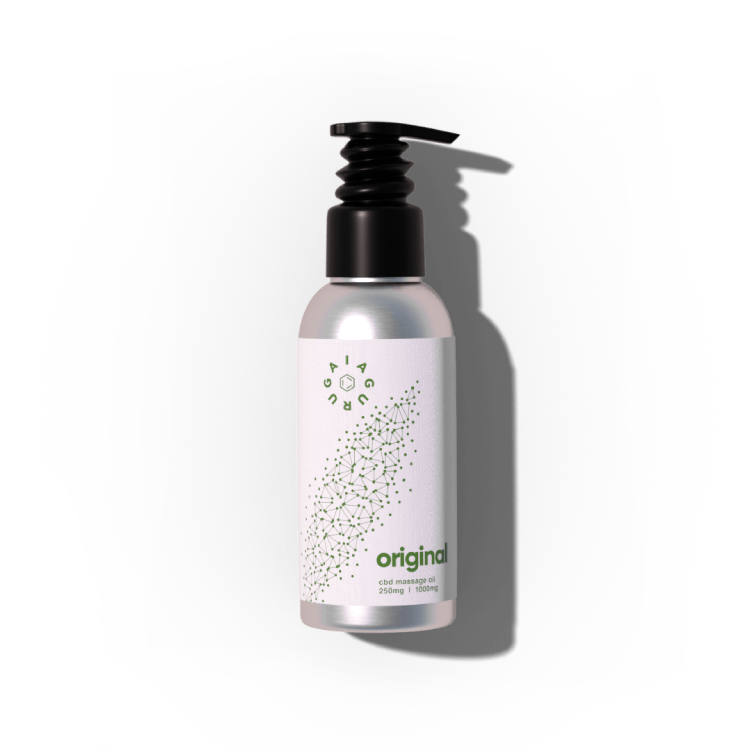 What's It Good For?
It can be used as an application for general skin health, and relaxation when combined with a massage

Moisturising and protecting against ageing and wrinkled skin
Repairing and rejuvenating damaged skin
Enhancing relaxation from massage therapy
product faq
A CBD massage involves applying a specially formulated CBD oil across the body or certain areas of the body, using massage therapy techniques to distribute the oil, and work it into the body in order to achieve therapeutic benefits (eg muscular relaxation).
Generally, the benefits of massage are compounded by the addition of CBD oil. Those include muscle recovery and relaxation, reducing stiffness and discomfort, improving joint mobility and nourishing the skin.
Some evidence suggests that the anti-inflammatory and antioxidant properties of CBD are helpful for keeping the skin protected, moisturised and defends against ageing and wrinkles. It is also helpful for keeping the skin surface balanced in the way of bacteria and infections, as well as helping keep the skin barrier strong, as well as helping maintain the balance of oily secretions of the skin which may help with acne.
CBD works in unison with the therapeutic pressure applied to the body through a massage. After CBD massage oil has been applied onto the body, it is worked on and into the skin. CBD is highly beneficial to skin barrier and skin immune health, pain, inflammation and relaxation because of the interaction it has with the Endocannabinoid System (ECS) on, and beneath the skin surface. Both the dermis and the epidermis are home to cannabinoid receptors (CB1 & CB2), which is how the ECS naturally maintains skin immune health, inflammation, pain sensitivity and blood flow through cannabinoid and cannabinoid related receptors.
Simply administer 3 pumps worth of CBD into your palms, rub together and apply to your desired area of focus. Add 3 more pumps if needed.
CBD massage oil should be left on for at least a few hours after it has been applied before bathing or having a shower. This is so the benefits can set in, and it can get to work beneath and on the skin.
As often as you like. Many people like to apply it several times a week, but it varies and depends on whether using it for skin health, pain or recovery.
what's everyone saying ...